Do you want to boost your page views? Do you want to generate more social media shares?
Use visuals!
Did you know that tweets with images get more attention and receive 150% more retweets that those without?
Did you know that 87% of most shared posts from Facebook pages Worldwide are photos?
Did you know that content that includes an image boosts engagement by 47%?
These stats just prove that people enjoy content with images much better especially those with pretty and appealing visuals.
Remember, our brains are wired to understand information with visuals much quicker than pure text.
So the best way to double up your traffic? Encourage your readers to share your content by including social-media-ready images on your blog posts. And always include images on your social media posts.
Now that we've proven that content with images perform much better. It's time to spice up your content with appealing visuals!
Here's a new pack containing 210 easy-to-edit image templates you can use for your blog posts and social media posts.
Awesome Features
210 templates in PNG format.
Available in 3 different sizes. Ready made for Facebook, Twitter, Google+, Pinterest, Instagram and Etsy Listings. Sizes are: 1000 X 1000, 1280 x 720, 735 x 1102.
There are 8 different styles available in 9 colors (except the glittered one) – scroll down for more details!
Can be easily edited using Photoshop, Paint or any other editing softwares.
Benefits of Getting Image Templates
Save tons of time. All is ready for you. The design, the sizes, the style. All you have to do is open up any image editor and add your text!
Boost social media shares. Having pretty social-media-ready images on your blog encourages your visitors to share your content.
Double up your traffic. The more social media shares, the more your content spreads, the more traffic you get.
Examples:
Detailed Features
1. These are some ideas where you can use these for.
Blog Posts
Quotes
Social Media Posts
Ad Campaigns
Website Graphics
Etsy Listing
2. Each style is available in 3 different sizes (ready for Facebook, Twitter, Pinterest, Google+, Instagram, Etsy Listing Thumbnails)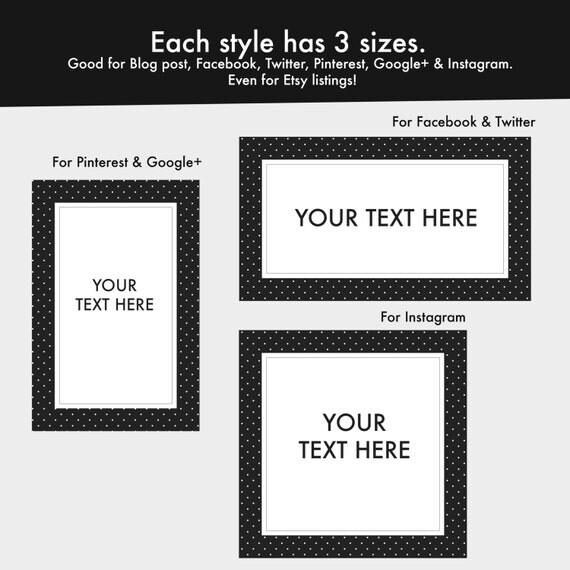 3. There are 7 8 different styles available in 9 different colors. 8 different styles: glittered, horizontal stripes (large), horizontal stripes (medium), polka dots (big), polka dots (mini), slanted stripes, vertical stripes (large), and zigzag. Each style has 9 different colors (one has 7 different colors): black & white, gold, gold glitter & black, gray, green, hot pink, hot pink glitter & white, petal pink, teal